Hey kumunizen! We have great news! If you have reached Mango level 3+, you can now live stream on kumu using OBS!
What is OBS?
OBS is a free and open source Real Time Messaging Protocol (RTMP) software you can use for broadcasting your stream using your computer. You can get it at https://obsproject.com/
Am I limited to using OBS in kumu?
You can use any RTMP software you want to stream in Kumu! OBS is what we talk about here since it is one of the more commonly known applications to stream but if you prefer to use others feel free to do so!
What are the RTMP Server and RTMP Key for?
You will need to copy those into OBS or whatever software you will use to start the stream. If you turn on the RTMP setting before going live it means you are telling us to expect an audio and video feed from your chosen RTMP service.
To stream using OBS, follow these steps
1. Launch the Kumu app then tap the profile icon on the upper left corner of the screen
2. Tap on 'Settings'
3. Copy the RTMP Server URL and RTMP Key.
Keep in mind that you should not share this information with other people.
Note: For security purposes, RTMP Server URL and RTMP are covered in the picture.
4. On OBS, open Settings then go to Stream Settings. On the space for 'Server', paste the RTMP Server URL. On the space for 'Stream Key', paste the RTMP Key.
5. On your Kumu app, Turn on RTMP in your Livestream Setup beside the cover photo and you're all set!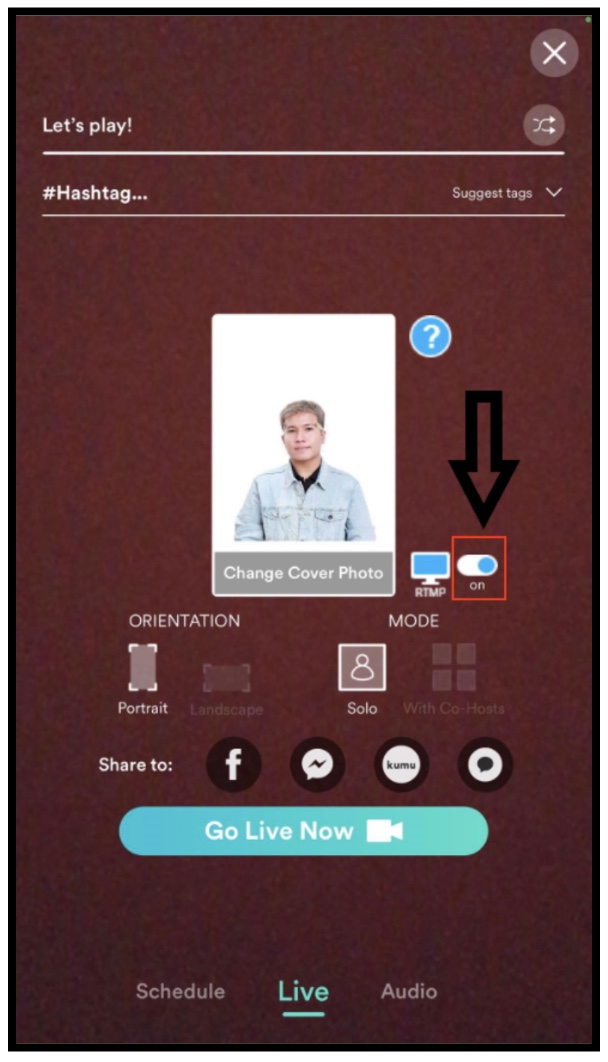 Notice: We regularly update RTMP stream keys for all users and may change once in a while. If you encounter errors on your RTMP streams, please double-check the keys.